Over the past few months, the COVID-19 pandemic has impacted many lives and businesses and it will continue to take a toll on the global market until and unless it is contained. However, for the Video Cloud industry, it's a blessing in disguise.
The need for social distancing and spending more time at home has accelerated the adoption of different video cloud services among users. A recent study shows the time spent on streaming video services has more than doubled from just a few months back. The time spent is not only on entertainment streams but also on online distance learning and courses. The video streaming industry would flourish to a whole new level in the coming years. The industry can bring in more facilities like regular online classes for students, training and fitness sessions, high-quality video calling, conferencing solutions for work from home, and for surveillance of family for security reasons. With a sudden surge in the demand, Video Cloud Solution needs innovation to ensure smooth user experience. Let's have a look at the most important block of a Video Cloud Solution which is Video Streaming.
Video Streaming is the primary element of video cloud as the processing of video needs to be near real-time and straight on our devices. The transmission of large video data packets causes latency issues that disrupt the viewing experience and effectiveness though it can be streamed at higher resolution and speed with the advancement in network speed, bandwidth, video compression algorithms, and protocols.
To address the demand surge, Video Cloud will require Video streaming platforms that can scale multi folds to handle heavier video requirements and provide a better viewing experience. With the ability to scale infinitely, a Video cloud gives businesses unmatched agility to expand video streaming usage in case of temporary spikes in demand or scale down when the demand has tapered off.
Video Cloud Transformation – Needed TODAY
The major components in this pipeline of video from the source to the destination are:
Video ingestion
Video transcoding
Media packaging
CDN & Playback
Video Storage
Though the Video cloud industry has seen significant growth in the past two decades in every business, In the current situation we need video cloud solutions that are able to overcome the following challenges:
Bandwidth limitations where larger bandwidth is required to transmit, so any bottleneck between source and destination affects the user experience
Latency & Reliability wheneven a few milliseconds increase in latency in two way communication could give a very bad experience to the user
Ensuring the video streams are compatible with a wide variety of devices in the market is another challenging task
Transferring a large amount of data to and from the cloud incur a bandwidth utilization, transcoding, and storage which incur a high Operation cost and Security measures while ensuring that user data is not compromised in any form
The Journey of Video Cloud has a lot of challenges that the VVDN Cloud team with the technological advancements has made it possible to overcome the above-mentioned challenges to deliver high-quality video and ensure exceptional user experience.
VVDN's Video Cloud engineering team understands Video Streaming and its associated challenges. Hence to address the challenges the industry is facing today, VVDN Video Cloud Team brings in a Video Cloud Solution – which is architected with the reusable frameworks/components and the same can be customized as per customer's business requirement. With VVDN Cloud Solutions, customers will be able to:
Video Stream the data with high bandwidth and low latency
Detect the optimal bandwidth and change the streaming bitrate in accordance with the identified optimal bandwidth
Two-way video communication solutions for different products which have sub 1sec latency
Capable of transcoding the video into multiple streaming protocols, resolutions, bitrates and formats
Security measures & integrations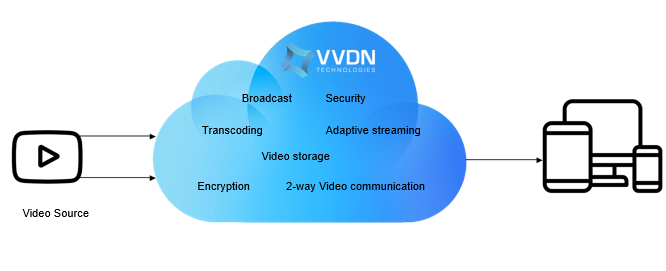 VVDN has developed frameworks with leading technologies that are reusable and can be molded for different use cases and product features. Our Cloud Engineering Team is experienced with its Video Cloud Solution that can help customers who need support in the domains including:
Security and Surveillance: Surveillance Cameras, Smart Video Doorbells, Smart City Cameras
Communication: Live event broadcast, News broadcast, Video Conferencing
Entertainment: Digital content streaming sites such as Youtube, Netflix, Hulu, etc
Educational content: Schools & Colleges, Distance Learning Programs
Marketing: Digital screen advertising
Click here to read our next blog where we will talk about the VVDN's Video Cloud Solutions in detail.
For more details, write to us at info@vvdntech.com