The two-part blog discusses Changing Video Cloud Landscape during Covid-19. In the second part we explain how OEMs can benefit from VVDN Video Cloud Platform – a highly scalable and customizable platform giving them a competitive advantage!
In my previous blog, I talked about Video Cloud Landscape during Covid-19 times and challenges faced due to a surge in demand among users. Here, I will be introducing VVDN's Video Cloud Solution with video streaming capability as needed by the various industries today such as
Security and Surveillance: Surveillance Cameras, Smart Video Doorbells, Smart City Cameras
Communication: Live event broadcast, News broadcast, Video Conferencing
With over a decade of experience in the Video communication industry, VVDN has designed and developed Video Cloud which is customized as per various customers with different use cases and requirements. VVDN's expertise in designing and developing video cloud works seamlessly with leading technologies. The video cloud comes with reusable frameworks that can be molded for different use cases and product features requirements from video streaming bit rate to audio streaming etc.
VVDN Video Cloud Solution: Easily Adaptable, Scalable and Customizable
VVDN Video cloud production-ready solution provides end-to-end streaming video solutions and helps customers reach the market in less time with unparalleled reliability and scalability at a lower cost. VVDN has developed a Baseline solution on video cloud and offers customization as per the client's requirement.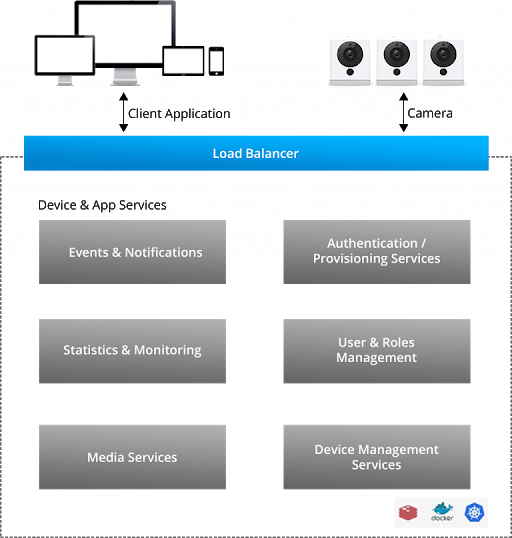 Some of the major components of VVDN's Video Cloud Solution are explained below:
Media Services: Media services form the core of the Video cloud architecture with all the video and audio related activities. It handles the signaling, video proxy servers, bitrate controls, transcoding to multiple streaming formats, etc. Its module is designed to support multiple use cases including Video conferencing solution, Audio streaming, OTT streaming, etc.
VVDN brings in different features :

Low Latency Streaming
Adaptive bitrate streaming
480p to 4K streaming
One to many WebRTC Live Streaming
WebRTC Video Conferencing
WebRTC, MP4, HLS Support
RTMP to WebRTC Adapter
Recording Live Streams
Stream to social media simultaneously
We have compiled and customized reusable FFMPEG framework, VLC kit for streaming with 4K and 360° video support, customized SIP, and WebRTC SDKs for all platforms.
Events & Notification: This module of Video Cloud Architecture is majorly used for IP Cameras and Surveillance Industry where video cloud is used for streaming from camera to the user mobile app.
Video Analytics: This module is used to obtain intelligent insights that can be used as a core business tool. It handles events like motion detection, face detection, Pattern Recognition, and several other information and notifies the end-user. Different features for AI and analytics integration can be incorporated.
Statistics & Monitoring: Statistics & Monitoring module keeps a record of all the Video & activities logs from the connected device and presents a structured visualization that includes activity history records from a camera to device health monitoring
Cloud Security: Authentication module provides a secure user & device authentication details and takes care of the user sign up, login/logout, password management certificate management and onboarding a camera device under a user account. We have implemented different security standards including Data Security with AES-256 Encryption, Data transport security, SSL Certificates & Signed keys, Multi-factor authentication, Single sign-on, Infrastructure & Network Security, Public IP Protection, and Secure Coding Practices
User & Roles Management: This module takes care of user subscription services, payment, transactions, roles, etc.
Device Cloud Connectivity: Device/Camera is connected to the cloud through different methods depending on the device connectivity capability including BT/BLE, Wi-Fi, 3G, or LTE network. VVDN has developed reusable frameworks for easy and fast development which includes device search protocol wrappers, a customized library for data encryption, and secure communication.
Devices Management Services: Once the device/camera is onboarded under a user account, device management services configures and manages the camera, monitors & logs its health, stores recorded videos to the cloud, and manages firmware updates
Scalability: The entire architecture is containerized with Docker, solving the major challenge of portability & scaling. The architecture is designed to support the Kubernetes model of scaling, deployment automation, and management of containerized applications. Our cloud solution provides horizontal and vertical scaling.
Why VVDN?
VVDN brings in solution to three key points in building a Video Cloud:
1. Production-ready solution: Clients always look for something which is readily available and can be deployed in no time. They usually do not want to start from scratch and spend a lot of time and money. VVDN has a feature-rich Video Platform base which can be molded into any streaming solution real quick. This solution is available on multiple platforms like Amazon AWS, Microsoft Azure and Google GCP
2. Customization: Even though clients look for a quick solution, they do not want to have an exact copy of our existing solution alone. They usually add their own unique features and customization on top of it. Our platform is modularized and flexible to incorporate any such customization in a short time
3. Time to market: With multiple such ready-made platforms built for different applications & use cases, time to market is reduced drastically. The platforms are built for enterprise-level scalability, security & reliability
4. VVDN 24*7 Cloud Maintenance: We have our own managed services where network operating expertise supervises, monitor, manage, and maintain the client's network. Our cloud-managed service encompass
Event monitoring & management
Incident management
Problem management
Capacity management
Performance management
Different standard support coverage options are available including Gold, Silver, Bronze, and custom service to fit the client's requirements.
Click here to read more about VVDN's Cloud Offerings.
For more details, write to us at info@vvdntech.com.