VVDN has been making noteworthy progress in 5G space with its end to end software and hardware expertise and is evolving as one of the best players in the market. VVDN's O-RAN over eCPRI is a solution for 7-2x Split up with PCIe Gen3.0 x8 host interface to the High-PHY SW layer. IQ samples can be transported over PCIe interface to FPGA and High PHY runs in the host. An input of 1PPS is provided for frame synchronization. Block floating-point compression and modulation compression can be supported and the design is scalable to support multiple Fronthaul.
Let's first start with…What is Fronthaul?
It is a network connection between the Baseband Unit (BBU) and Remote unit (RU) in RAN infrastructure. It was introduced with origination of LTE networks when operators moved their radios closer to the antennas. With the evolution of 5G, it became essential to configure flexible fronthaul deployment in order to cater to the requirements of advanced 5G applications.
What problem exactly does this IP solve?
O-RAN architecture of 5G RAN is well accepted by most of the telecom operators as it has the capability of enhancing NW performance in terms of coverage and capacity with high throughput but at the same time significant latency and throughput requirements are expected to be supported at Fronthaul interface between gNB-DU and gNB-RU.
Open-Radio Access Network (O-RAN) will deliver truly open fronthaul interfaces, in which multi-vendor DU-RU interoperability can be realized along with high throughput and very low latency.
Why do we need a 7-2x Split?
Improved fronthaul bandwidth efficiency is one of the key benefits
Fronthaul interface has various split-up options, VVDN's currently concentrating on option 7, i.e 7-2x split option
In 7-2x split, 7 blocks will be processed by CU+DU as DU has only 5 blocks and 2 blocks from Low-PHY will be processed by RU
Flexible HW implementations allow scalable cost-effective solutions
The split architecture allows for load management and real-time performance optimization.
VVDN's O-RAN Fronthaul IP for both DU & RU 7-2x split options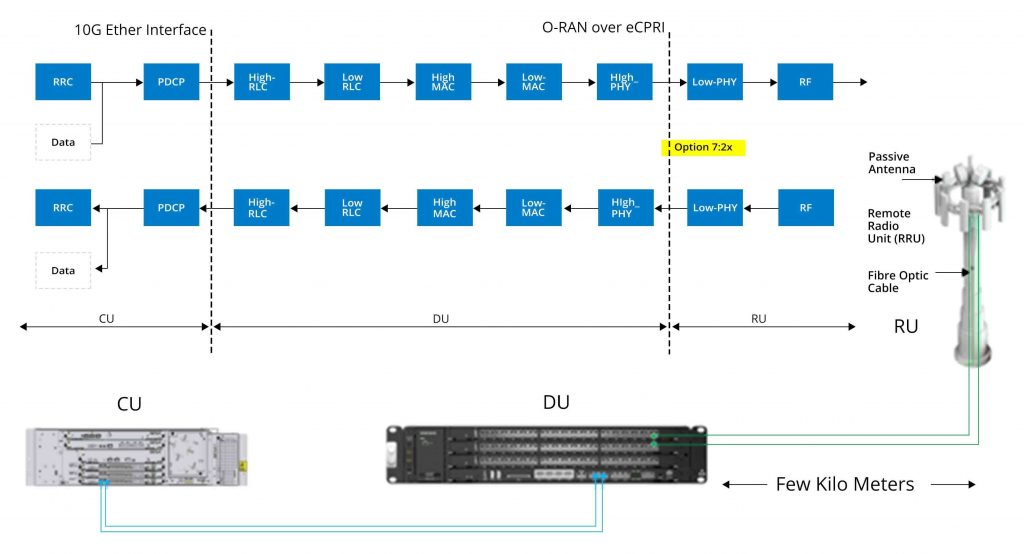 VVDN Technologies also announced 5G Fronthaul Solution based on the O-RAN 7-2x functional split option between gNB-DU and gNB-RU. The IP can support multiple fronthaul interfaces and each fronthaul can carry up to 8 Layers of uncompressed IQ samples, each of 100MHz bandwidth with SCS of 30 kHz over a 25G interface and it will be further focused on the following,
eCPRI IP Solution for O-RAN Transportation
IEEE 1588 PTP support block IP for Synchronization
Smart Interconnect for Packet classification and Quality of Service (QoS)
Support multiple compressions/de-compressions like Block floating-point (BFP) and modulation compression
Scalable Architecture
The O-RAN Fronthaul IP in the 7-2x split option will help in interface simplicity, transport bandwidth scalability, interoperability, lower RU complexity, and function symmetry. Not only this, offloading the PHY function to gNB-DU will help to minimize the complexity and cost of RU, thus allowing a minimal change in the gNB-RU side due to the change in 3GPP specifications. It will also help to limit the electronics needed at the RRU and makes RU processing lesser complex- this lowers the cost as cooling components will not be needed at the RRU and the following sectors would be benefitted from the solution,
DU-RRU vendors
5G Telcos
Internet Service Providers
With VVDN's focused engineering expertise, it is committed to grow potentially in the 5G market and looks forward to be a partner of choice for all those looking for the best 5G solutions and collaborations
While this covers the basics of the VVDN's Fronthaul IP, stay tuned for more articles for a detailed information on the solution and VVDN's holistic approach to support a customer's software & hardware requirement with its in house engineering capabilities.
Click here to know more about VVDN 5G offerings.