Ever since the onset of COVID-19, the world has seen drastic changes in the individual's lifestyles across the nations. Post initial phase of lockdown, every country is preparing to open up and the challenge lies in providing an individual's safety amidst the virus scare. Globally "Distancing" has emerged as a key part of preventing the spread of the virus.
As the world is trying to come back to normal, industries, offices, hospitals, warehouses, departmental stores, and others are looking to embrace technological solutions for social distancing to enable the workforce to come back to work and kick start the economy. The focus of governments has shifted to educate people about social distancing and are now facing challenges in tracking the COVID-19 patients and identifying persons who might have come in contact with patients. VVDN understands the importance of social distancing and has been a pioneer in utilizing IoT technology to address the issue of social distancing (up to an accuracy of 20cm) and contact tracing.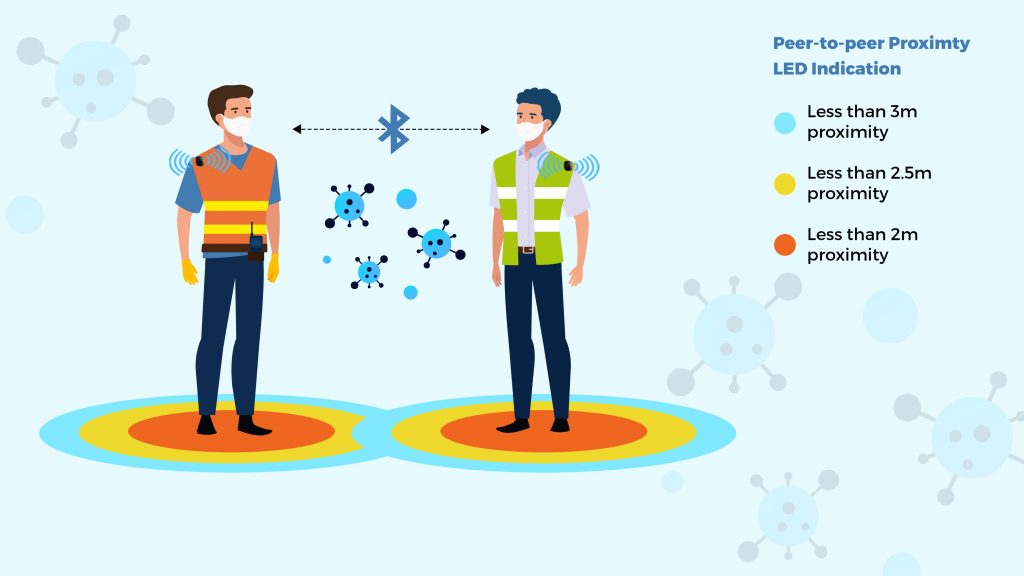 VVDN Contact Tracing Solution
VVDN Contact Tracing and Social Distancing Solution makes use of BLE (Bluetooth Low Energy) and UWB (Ultra Wide Band) proximity sensing technologies. VVDN has developed production ready IoT Tracker Tags which communicates to a Custom Cloud via gateways. The implementation includes users wearing an IoT tracker tag (BLE or UWB Based) which sounds an alarm (sound/light) as an when the user comes closer to any other user. Depending on the customer requirements either of the solutions can be proposed and power users of the system get real-time reports on the cloud, which flag users who come in proximity to whom and when. In case one user is detected as positive for COVID-19, there is a way of contact tracing which shows how many other users did that person come in close contact in past hours/days. VVDN offers a completely customizable cloud solution to provision the tags, manage users, flag proximity sensing, and view contact tracing. The threshold values can be tweaked based on internal/ government guidelines. VVDN has spent substantial time brainstorming the use cases with different industries to come up with the right configuration parameters which can be set up at the time of provisioning the tags and the whole system would work as per the required guidelines. The power of the cloud could be extended to enable RTLS (Real-Time Location System) with additional hardware setup, which would give the current location of each user.
The key features offerings are as follows: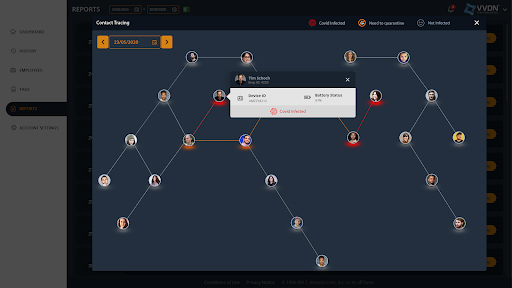 Proximity Detection
Proximity detection will happen over BLE/UWB between multiple tags
Configuration of tags/beacons/gateways through a mobile app
Proximity alert updates to Gateway/server
Device Alerts (less than the 2-3m range)
Visual alerts: LED Indication
Audio Alerts: Buzzer
Haptic Feedback: Vibration motor
Alerts will prolong until deactivated or out of proximity range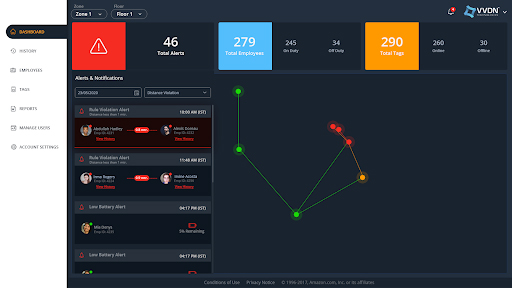 Alert/notifications
Alerts sent to the tags/server(via the gateway)
A timestamp for every alert recorded
Tag ID with location data sent to the cloud
Real-Time Location Tracking
Configurable (1-30mins) interval setting for RTLS update to server
In normal mode, RTLS alerts over Wi-Fi as per configured interval
Post a true proximity alert, increased frequency of RTLS updates
With the above feature list, VVDN work with OEMs by enabling faster development, manufacturing, and deployment by providing the right mix of technologies as per the real-life use case and applications
For more details, write to us at info@vvdntech.com