While the world remains gripped by the COVID-19, the realms of businesses continue to look for some evolving perspective. Various reports suggest that "no industry" is immune but the COVID-19 pandemic has hit manufacturers in an unexpected and unprecedented way. As governments in various countries announced lockdown, businesses got into a war footing situation. Most IT and Software businesses could use Work From Home to their advantage but manufacturing sector has a different requirement, which mandates employees to be present onsite.
Some of the woes which manufacturers are facing include:
Sudden dropdown in the availability of Workforce as the government announced mandatory lockdown
Stress on the Supply Chain as international borders closed, logistics was brought to a stand still.
As famously said "Survival is the ability to swim through strange waters and the ones who are most responsive to change can sail across the turbulence." Times like this actually gave all sectors especially manufacturing an opportunity to show their adaptability skills.
Mitigating COVID-19 Impact – Way Forward
1) ACCEPTANCE IS THE KEY
Surprised…!! Yes the first and the most difficult step that companies need to take is to "ACCEPT" the current situation. Companies need to understand the NEW NORMAL and change the mindset. More quickly one adapts, faster will be the road to returning back to normalcy.
2) WORKFORCE MOTIVATION
Companies should take extra measures to instill positivity among its workforce and bring the employees back from the whirlpool of all the negative emotions. The onus lies on the company's leadership to show your people the way forward and relieve them from the grips of scare and fear.
3) WORKPLACE ETHICS – Mix of Work From Home (WFH) and Staff in the premises
Since manufacturing sector at the moment cannot sustain on a complete WFH Model, its vital for the companies to quickly adopt and devise a working model where some non-office dependent departments such as Finance, Marketing, Sales etc. work from home. However to run the factory lines, Manufacturing Sector needs its frontliners back to office.
Following strict safety guidelines to ensure the safety of your people should be No 1 Priority. Companies need to bring the following into practices:
Thermal Screening of Employees at the entrance
Adequate distancing (approx. 0.6 m) while working and operating on the production floors
Ensuring proper workplace sanitization on daily basis
Above measures are to be strictly followed as SAFETY OF YOUR EMPLOYEES is your responsibility.
4) DECOUPLING SUPPLY CHAIN
While above given measures were more oriented towards solving workforce challenge, another major huddle faced by every electronic manufacturer is to how to de-stress its supply chain in order to provide deliveries. At the moment complexities of supply chain need more government interventions and industry as a whole. However electronic manufacturers today should also bring flexibility in terms of its supplier base spread across multiple geographies. This pandemic clubbed with other political factors has given a lesson that dependency and monopoly of one region should no longer be accepted in the realms of businesses. Today to ensure execution and deliveries, manufacturers need to quickly adapt to:
Tie-ups with suppliers in different geographies
Strong Vendor /Supplier relationships will be the key to address a lot of challenges in terms of communication of component lead times
Today world is looking at India with a new lens and India has the golden opportunity to emerge as the manufacturing hub. Electronic Manufacturers should adapt these for greater resilience and business continuity.
5) COMMUNICATION TO CUSTOMERS
The most important step to ensure while tackling all the problems is to have an open direct and regular communication with your customers. All Program Managers should plan the right form of communication with customers. The world is together in this crisis and having an honest conversation on the situation and its impact on your project deliveries will keep your customers involved and informed. Any negative message should be delivered with utmost empathy along with transparent reasons.
With a laundry list of problems in hands, companies should take an optimistic approach and charge themselves to take action.
How VVDN is Navigating Through COVID-19?
VVDN Technologies being one of the fastest growing ODM in India quickly understood the precarious situation and resorted to quick responsiveness and adaptability to ensure, VVDN's customers are cushioned to a considerable extent from the impact of lockdown. Company responded to the situation by quickly harnessing a host of stringent safety practices as well as adopting leading practices in a response to mitigate the COVID-19 impact in manufacturing and supply chain.
Chronology of the Lockdown and how VVDN Manufacturing sailed through the same?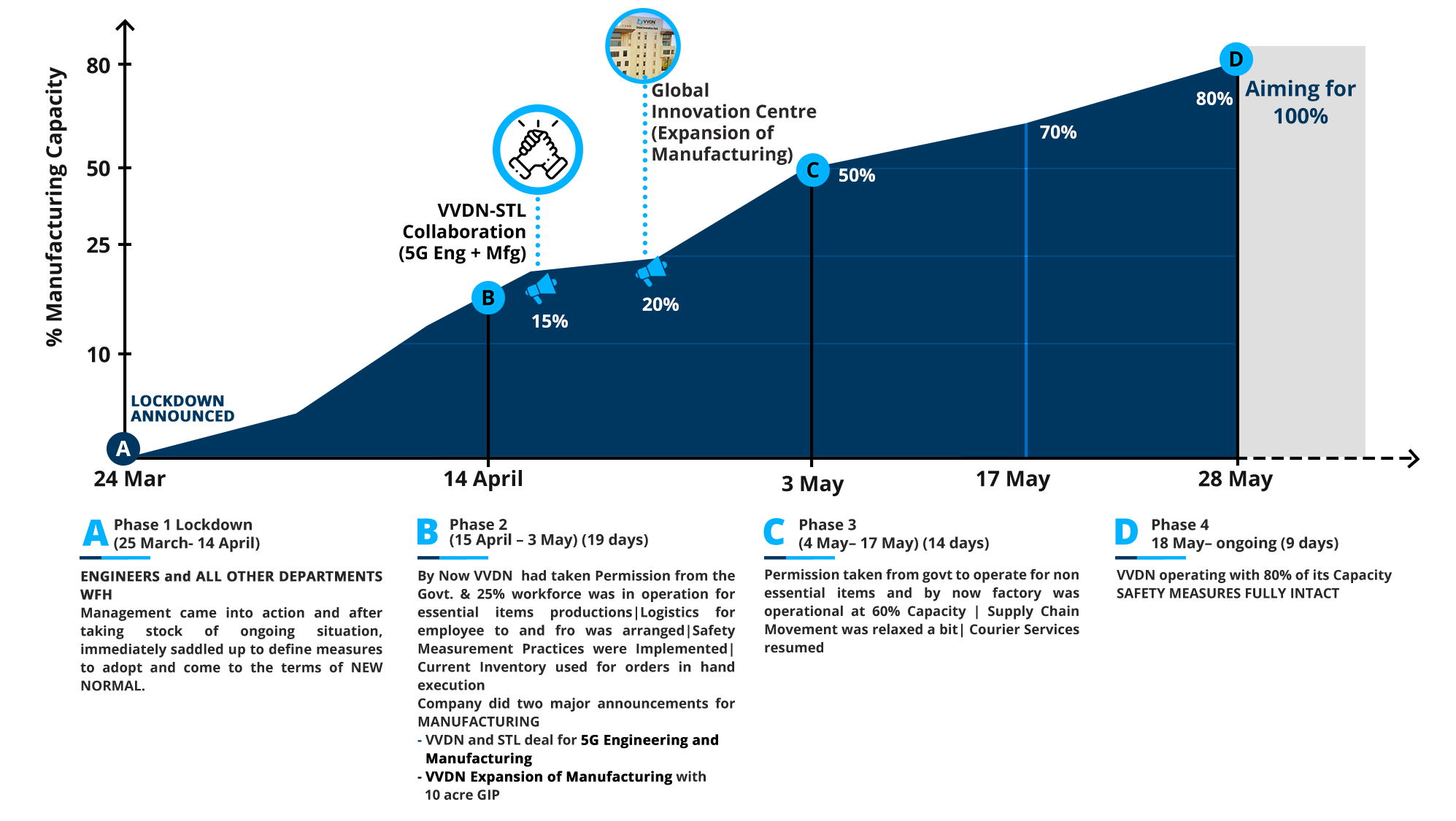 Click here to read more about VVDN Manufacturing.