The adoption of cloud computing solutions has now become supreme for enterprises or consumers who are moving ahead to manage their network over the forthcoming decades. Precisely, "what services should be shifted into the cloud? How much it might cost? To what extent will it help to expand the business?" these are the questions being exchanged a part of the conversation.
Yielding real-time access to systems and data from a variety of devices regardless of the location and with guaranteed up-time of 99%, the cloud is emerging as the finest choice for businesses. Network Cloud Controller is a phase of complete revolution and sophistication. It empowers the corporate firm to oversee the complete network from the cloud. Network Cloud Controller has its utmost advantage in not just identifying and fixing the functionality hiccups but also influence the potential of technology to offer a better customer experience.

The following are some of the key advantages of a Cloud managed solution:
Scalability: In the case of complex on-prem network infrastructure, scalability means buying new hardware, adding and integrating it within the architecture, and configuring it to run thoroughly. However, the Cloud-based Network Controller can be scaled easily without the need of introducing hardware components in the integration system
Data Mobility: Since the data would be stored in the cloud, the data can be easily accessible from almost anywhere in the world. This would limit us from getting bound to infrastructure constraints
Security: Keeping the data over cloud managed servers and applying the best practices to maintain security in the future than relying on an on-site server available
Cost and Time-effectiveness: Network Cloud Controller reduces the hardware maintenance and IT personnel costs along with effective time to market
What are the different challenges that OEMs face?
Performance and Management of connected network devices: Network management systems are generally large with few hundred to millions of connected devices. It is a big challenge to maintain such a large number and overcome glitches. This includes :

Maintaining a huge number of connected devices.
Monitoring the performance of the Network Cloud Controller and rectifying the issues.

Security. Security is another top challenge being faced as the perimeter of today's network is unclear. Just blocking unauthorized outside traffic from the internal network isn't adequate for protecting data.
Emerging Technologies: With emerging technologies, it gets difficult to keep the devices up to date and compatible with the latest trends in the market.
Growth. There's a constant increase in the number of devices attached to the network, with every additional connection an additional potential point of failure.
How does VVDN help OEMs with Network Cloud Controller?
VVDN's Network Cloud Controller Solutions simplifies the deployment and management of networks equipped with devices (Wi-Fi AP/Routers, Network Switches, NAS/Storage) by eliminating the need for on-premises controllers. With VVDN's engineering capability of developing Network Cloud Controller solutions, even small IT departments can remotely and easily add new users and wireless access points (APs), administer guest networks, and even manage entire Wi-Fi-enabled buildings and campuses. VVDN works in the engineering services model with Global OEM's to develop Network Cloud Controller as per their custom requirements and help them in deploying the solution on public & private clouds. VVDN also offers specialized DevOps services to monitor, manage & control these clouds which are hosting millions of network devices.
VVDN designs Network Cloud Controller which can be used to remotely supervise industrial networks with millions of devices around the clock. We do what it takes to keep your system stable and managed. This practice includes the listed pieces of work:
Gain control of your network, by deploying, monitoring, and configuring at your fingertips
Instant alert/notification for any activity in your network
Multiple sites and devices on a single screen, easy to manage and time-saving
Transportation cost saving as a visit to the site is no more required
Remotely troubleshooting network problems
Planning for future network growth
Securing the network against all kinds of threats
VVDN also uses a popular open-source platform for container orchestration: Kubernetes — that is, for the management of applications built out of multiple, largely self-contained runtimes called containers.
Managed load for millions of devices using K8S inbuilt autoscaling
Security enhancement using K8S secrets and RBAC authorization
Multi-master setup for high availability
Nginx Ingress controller used as a load balancer with TLS enabled
Distributed nodes across zones with autoscaling
Configured horizontal pod autoscaler
Configured liveness and readiness probes
Setup cluster monitoring tools like Prometheus and Grafana, ELK Stack
VVDN Engineering Capability for Network Cloud Controller: Easily Accessible, Secured and Scalable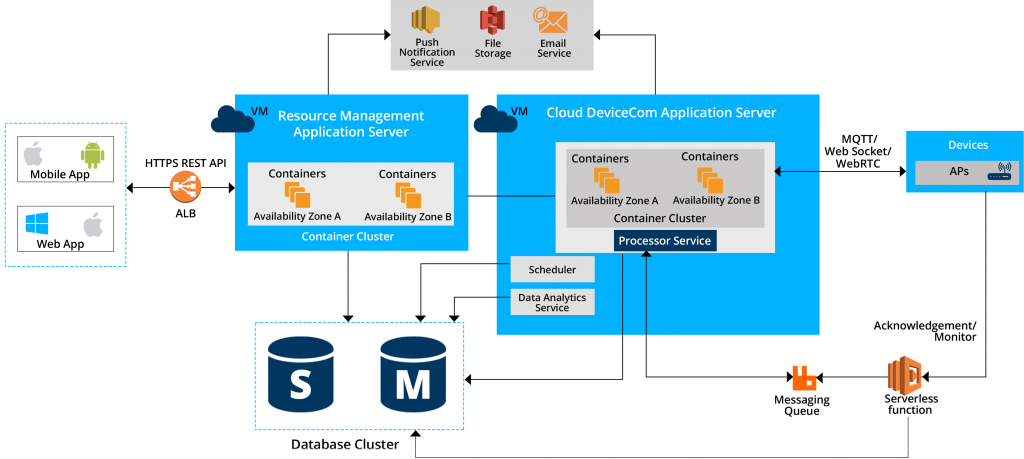 Network Monitoring: Monitor network to ensure all the connected devices are operating correctly and if any glitch is detected, alert the network administrator via notifications. Also, extract graphs and health charts.
Device Detection: Detect any new device or an already configured device in the network via different discovery protocols like UPnP, UDP, and MDNS.
Device Configuration: This feature would configure the device on the cloud with its configurations like Wi-Fi settings, admin password, and security questions settings, etc.
Network Management: This includes features such as mac address filtering, network mapping, and complete path configuration of the network, device internet block/unblock.
Storage Management: Network storage devices can be configured for storage space.
Debugging and troubleshooting: Complete a user-friendly guide to troubleshoot and debug a problem.
Network Security: Network Security is maintained with security services that have capabilities of intrusion prevention, log & data management, malware protection, vulnerability scanning, threat detection and response, access control, real-time and intelligent alerting, etc.
Parental Control: Allows to set up parent and kid profiles so that internet management on kids' connected devices can be done.
LAN Topology: In an IP network, on a simple private LAN you have a single IP subnet (e.g. 192.168.1.0/24). In this simple network, all devices are all part of the same physical LAN ('wiring') and logical LAN (IP network). VVDN Network Cloud Controller functionality designs the simplest of LAN topologies, single physical network, and everything on that LAN can communicate with any other device. A Virtual LAN ('VLAN') is a method of segmenting different devices according to their location, function, or security clearance.
OTA Firmware Upgrade: During an update, the Internet access of another device may stop, which can cause its firmware update to fail. To reduce this risk, VVDN's Network Cloud Controller assists in updating the firmware on all edge devices (Access points, Storage devices) at the same time, and then update switches, & routers connected to ISP.
Mesh Topology: Circumstances may arise where laying the ethernet cable might be nearly impossible such as outdoors, historical buildings, and so forth. VVDN's Network Cloud Controller helps deploy and manage the access points which could not be connected to the network with an ethernet
Captive Portal: VVDN's Cloud-based NetworkController offers a wide range of advanced features to push the growth of value-added services. The scope offered in this captive portal includes:

Captive Portal configuration

This would allow network administrators to configure and manage captive portal options
Management that would include:

Landing page
Login mechanism I.e. social login, Facebook, etc.
Bandwidth and session control

Access control and Security

Walled gardened URL
Restricted Sites
Fail-safe
VVDN way of implementing Multi-Tenant solution of Network Cloud Controller
The multi-Tenant solution of the Network Cloud Controller is implemented to provide a common platform and set of services to the VVDN's customers.
It is deployable as :
SaaS Multi-Tenant Cloud,
SaaS Private cloud
Private on Prem / on Edge deployments
VVDN's Multitenant cloud offers the following services which can help the customer in numerous ways:
Tenant Management: As a VVDN admin, we can create, read, update, delete, a new tenant in the system and grant access to individual services
User Management: As a Tenant admin user can create, read, update, delete, users, assign to groups, and a new group in the realm. User can also add other tenant-specific fields ( key-value ) to the user model
Device Management: Users can create, read, update, delete, a new device type to the account. Associate a device, with an input stream of data and add other tenant-specific fields ( key-value ) to the device model
Stream Management: Create, read, update, delete, a new input stream ( ex: MQTT, Kafka dropdown, topic edit box )
Data Management: Specify lifecycle rules for sensor data ( retention, rollup intervals, etc )
Rule Management: Create, read, update, delete, simple inspection rules for incoming events ( stream payloads ) ex: if ( temp > 40 && season == "spring" ) then publish message into system. Subscribe to messages in the system and act accordingly in your code
Data Access API: Make queries against stored event data to enable :
– Showing graphs and trends
– Enable any business requirement specific to data stream content
Below are the products that can be seamlessly integrated with VVDN core competencies/solutions:
Access Points
Routers
Switches
Storage devices
AI/ML intelligence build into Network Cloud Controller which helps resolve and root cause network issues proactively
VVDN strongly believes implementing AI/ML in Network Cloud Controller revolutionizes the IT operations. It enables IT with automated, self-healing capabilities, proactive resolutions rather than the traditional reactive mode, and freeing up time for IT professionals to focus on value-add initiatives that support their business objectives.
VVDN paves the way to leverage AI/ML to automate routine and monotonous tasks, such as network configuration, device configuration, Wi-Fi optimization, problem detection, and troubleshooting. It gives IT and management the ability to focus on higher-level projects that require greater diligence, creativity, and decision-making.
By diagnosing and correcting problems before they encounter themselves with the end-user, VVDN's AI/ML solutions can greatly enhance the end-user experience and reduce the maintenance and troubleshooting burden on IT.
The AI can sift through large amounts of data since it sways along with the network. It analyzes the data in real-time, giving insight into the information the network transmits and receives
In the case of a video cloud that streams video, the AI program can deliver a low latency connection with higher bandwidth as necessary. In this case, the AI has already preprofiled the video streaming device or application and adjusted parameters and resources on the fly.
Why VVDN?
VVDN believes to endow the abilities and the capabilities of each of its contributors with integrated proficiency that helps in creating unique market leadership outpacing the competition
Following agile and lean methodology
Partners with AWS with a large pool of AWS certified professionals & engineers
As Azure CSP(Azure Service Providers), we help customer provide an end-to-end solution (design and implementation)
Reusable cloud frameworks to add video and audio feature on cloud
Pen testing of cloud to make solutions secure and robust
System & mobile app development capability
Increase adoption of DevOps – CI/CD, ITOPs, SecurityOps
24*7 NOC